Around the world, forests are facing unprecedented ferocity of fire seasons which are exacerbated due to climate change. In the latest IPCC report "Climate Change 2022: Impacts, Adaptation and Vulnerability", released yesterday, it is stated that wildfires are blazing larger areas than ever before in many regions, leading to irreversible alteration to the landscape.
SAFERS aims to act along the emergency management of forest fires and to support societies in becoming more resilient before, during and after forest fire incidents by creating an integrated and open platform featuring a forest fire Decision Support System. SAFERS will use information from different sources:  Earth Observation data and services offered by the EU Copernicus programme and GEOSS, crowdsourced data from social media and from other applications used by citizens and emergency staff as well as real-time data provided by accurate sensors to detect smoke or fires. Such Big Data will be processed using Artificial Intelligence (AI) algorithms  to generate key information such as risk maps, early warnings, forest fire extension and propagation estimation in function of the forecasted weather and soil conditions, impact assessment estimations, and habitat recovery maps.
Gathering end-user requirements is an essential step to build  SAFERS platform. These requirements were collected from experienced personnel working in wildfire risk management such as firefighters, civil protection staff, organisations in wildfire risk management, practitioners working in Disaster Risk Reduction (DRR), scientific community, volunteer organizations, wildfire analysts, environmental consultants among others. These stakeholders  have given a valuable insight with their experiences, lessons learned and their perspectives from wildfire management situations.
An online survey, a virtual International User Requirements Workshop (IURW) and local workshops were organised to collect end-users' requirements. The online survey was taken in December 2020, and it was replied by a total of 49 respondents from 29 organisations in 16 different countries. The IURW took place on 24-25 February 2021 and included two co-design sessions. It was virtually attended by a total of 90 participants from 65 organisations in 18 countries. In regards to the local workshops, they were organised in the in the four demonstration sites in France, Greece, Italy and Spain gathering a total of 28 participants. Gathering end-users feedback was important to have a better understanding of the activities conducted by wildfire management organisations and the information they require for their daily operation as well as to identify their requirements relevant to shape  SAFERS platform and intelligence services.
SAFERS co-design approach included direct engagement with the actors that combine both design-oriented techniques and discussive analysis. An early involvement from end-users gave a deeper knowledge of end-users needs and expectations. Every end-user's requirement was considered, analysed, and translated into functional requirements by the technical partners.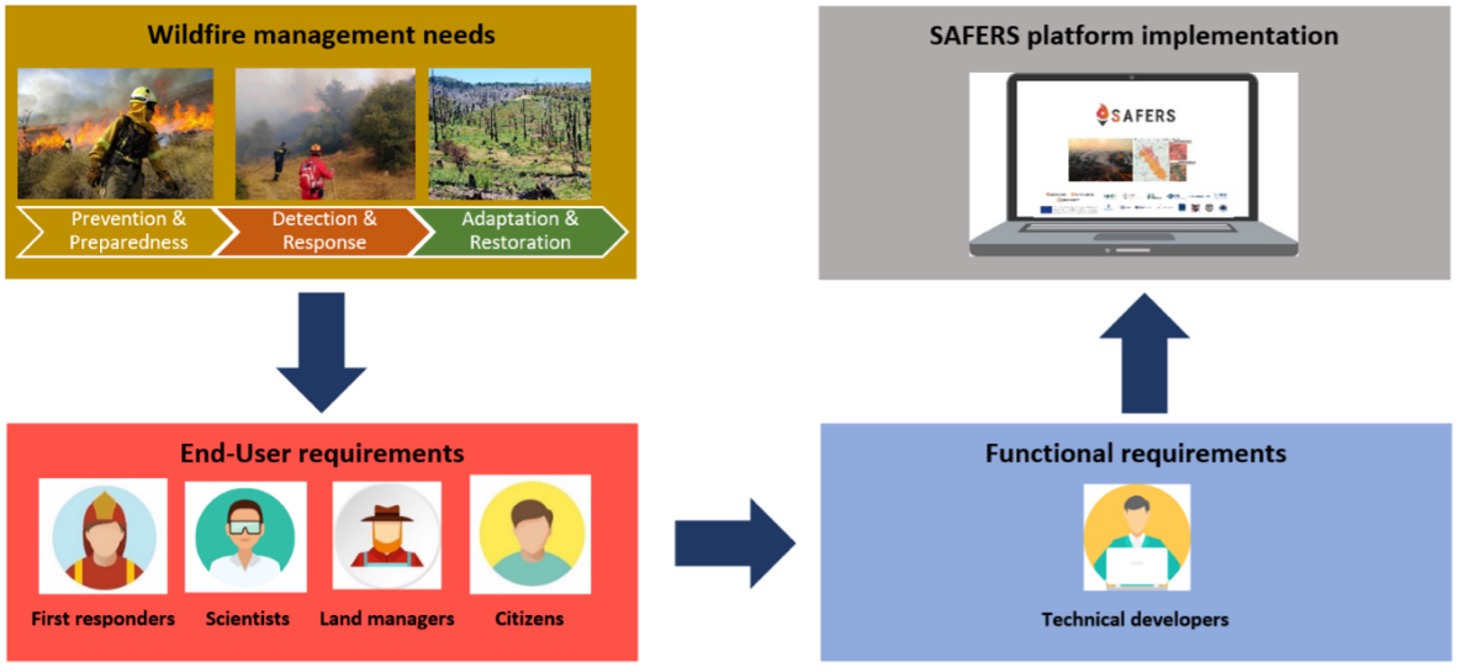 Conversion from End-User requirements into Functional requirements
To understand more about this co-design approach and its added value, an interview with Mr. David Martin, a Project Manager at Pau Costa Foundation, was conducted as follows:
Q:How was the journey of the co-design of SAFERS intelligent services?
Mr. Martin: It was very rewarding because we could approach a large number of wildfire risk managers. The objective was to create a space to give them a voice in the design of capabilities for the development of the SAFERS system. We knew that capturing their requirements was crucial so that we could develop something that they could find useful. This is why we planned for an interactive International User Requirements Workshop (IURW) with plenty of room for dialogue between the SAFERS technical providers and wildfire managers as potential end-users of the SAFERS system. Unfortunately, this was held virtually due to the COVID-19 travel restrictions; however, we endeavoured to maximize the interaction of the virtual participants setting up parallel sessions for discussions. In order to make the most of these interactions, we planned activities not only focused on gathering the specific requirements for the development of SAFERS system, but also to understand their main management activities, existing data and information sources they currently use, or lessons learned from previous experiences. All this information was crucial to develop a tool that satisfies their real needs. It is worth mentioning that in addition to the IURW we organized a series of local workshops to expand on the gathering of requirements, and that we plan to continue to gather requirements throughout the project lifetime for the continued enhancement of the system capabilities. 
Q: What are the benefits of involving end-users in the process of the intelligent services development from the beginning of the project?
Mr. Martin: We know the great potential of the various components of this system in the wildfire management domain, but at the same time we are aware that they can become useless unless they are user-oriented, and to achieve that it is essential to get the end-users (i.e., wildfire managers) engaged from the start. Furthermore, engaging them at the start ensures their familiarity with the project objectives, which facilitates their effective contribution and continued interaction with the technical providers.    
Q: What were the challenges of such a process?
Mr. Martin: The development of SAFERS platform is ambitious since it intends to cover all phases of the wildfire management cycle, which means that it is necessary to give voice to a heterogeneous group of wildfire managers, each involved in one or more phases. Therefore, this included not only first responders, but also researchers, land managers or representatives from public and private companies. On the other hand, the restrictions posed by COVID-19 made it more challenging in terms of building an interactive format where the contribution of everyone was equally considered.   
Q: How innovative is the co-design approach that was used in SAFERS compared to other similar projects?
Mr. Martin: The conceptualization of the SAFERS co-design process stands out for using an Action-Research approach, meaning that every initiative within the project is designed to interact with the end-user and create an impact. This results in actionable information and resources to the end-users through the implementation of different interactive activities (e.g., workshops, demonstration pilots...) governed by a user-centred design and a multidisciplinary perspective.
To know more about the co-design approach, check the infographic "Summary on the End-user Requirements Co-design Activities"