This SAFERS intelligent service "Post wildfire habitat recovery monitoring" provides a monitoring service, that will use imagery obtained from Copernicus Sentinel satellites. In particular, Sentinel-1 for soil conditions; Sentinel-2 for vegetation, high resolution imagery; and Sentinel-3 for supporting imagery,  and temporal monitoring. This service aims to provide past and up-to-date land cover and vegetation maps to sustainably restore and monitor planned burned area restoration for automated reporting.


This service will offer continuous monitoring and reporting, enabling to support the reporting of 
Sustainable Development Goals (SDGs)
 and 
EU Green Deal targets
; provide context to the development of post-wildfire recovery especially for Wildland-Urban Interface (WUI) planning; automate the monitoring of vegetation re-growth based on climate change resilience programs; and provides the quantification of forest fuel regeneration.
Wildfire management phase: adaptation and recovery.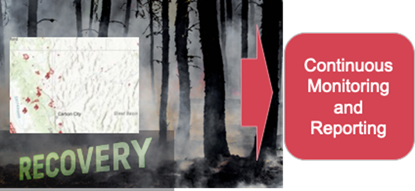 Explanatory of the SAFERS "Post wildfire habitat recovery monitoring" service works