The SAFERS "Smoke and fire detection systems" intelligent service - i.e. the SmoCAM - is based on artificial intelligence that analyses images and detects the presence of smoke and fire. It provides a video analytics solution that works in the visible spectrum and exploits common surveillance cameras to early detect smoke plumes in outdoor, thus reinforcing prevention activities even when thermal cameras fail.


In detail, it will enable smoke and fire with non-dedicated situ imagery (thermal and video surveillance cameras), complementing the already existing proprietary WV solutions. As mentioned, SmoCAM includes artificial neural network-supported image processing for which the data model will be trained in four pilot installation sites. Data collection will be done real time and will create a weather condition database that will be used to inform local fire hazard scenarios.
This SAFERS intelligent service is intended to be used for early warnings. It is a tool aimed to improve safety in a variety of situations such as natural areas, parks, cultural heritage sites, archaeological sites and urban areas.
The SmoCAM can be used with Internet Protocol-IP surveillance camera with a full High Definition (HD) minimum resolution and performs server-side analytics and it is based on cutting edge computer vision techniques and machine learning technologies. This SAFERS service ensures detection accuracy in a variety of scenarios.
Wildfire management phase: detection and response; adaptation and restoration.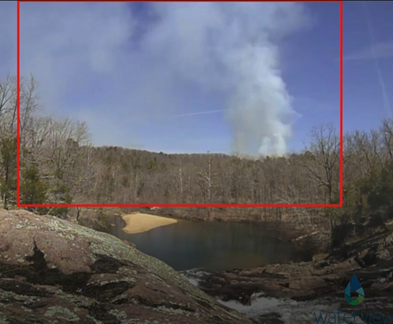 Image example captured by SAFERS "Smoke and fire detection system ( i.e. SmoCAM)" service