A SAFER mobile app for citizens, professionals and volunteers, will be designed and developed and will be implemented in the form of a chatbot to promote and integrated forest fire management. The chatbot application aims to both deliver and retrieve multimedia geolocated contents from smartphones. It can act as warning system in potentially affected areas and tasking/monitoring during emergencies. 
Using a conversational approach (i.e. a chat), this mobile application will allow professional responders to better coordinate their activities, enabling a better communication between field forces the control centers; crowdsource data collection activities involving citizens; and contextual communication on forest fire risks and self-protection behavior towards citizens for enhanced awareness.  The reasoning driving the selection of the "chatbot" instead of a traditional smartphone mobile application relies in the simplicity of access and effective usage. If on one hand, a smartphone application needs to be firstly downloaded from the App store (e.g. iOS or Google store), be installed on the user's phone, needs continuous maintaining and upgrading and occupies space in the users' smartphone; on the other hand, a chatbot can run on an existing messaging already present in the set of smartphone apps utilized by the user.
Wildfire management phase: prevention and preparedness; detection and response; adaptation and restoration.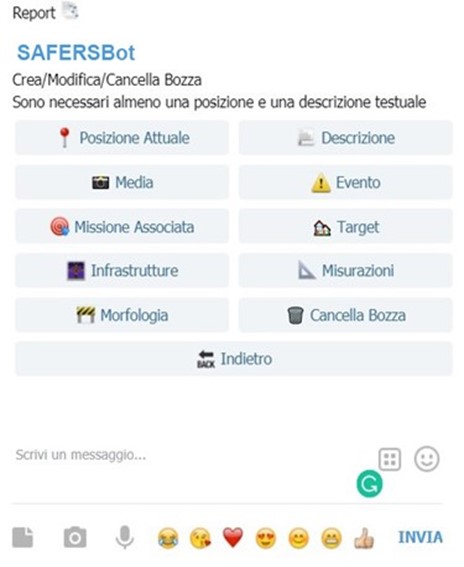 Chatbot mock-up example of an interaction window in the chatbot